Presenting Information on ToL Pages
Tree of Life pages are created dynamically from materials in the ToL database. In the future, we will also integrate data from other, collaborating databases and collections. ToL pages are assembled based on instructions provided by ToL page objects, which are a special class of objects attached to nodes in the tree.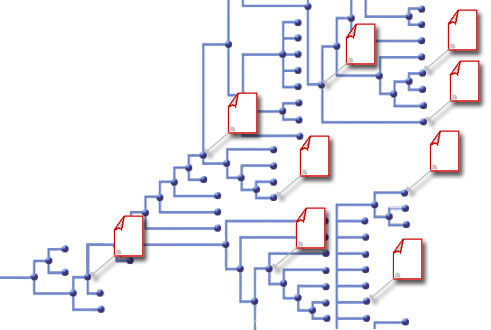 A ToL page object contains a specification of other objects to be harvested together and formatted into the page to be presented to the web browser. For example, the page object for the Beetles ToL page, specifies the harvesting of the tree structure to be displayed on the page, along with text sections and other objects that are attached to the beetles node, providing information about the group as a whole. In order to illustrate the diversity represented in the group, this material would then be supplemented by additional objects harvested from descendent nodes, e.g., images, sound files, descriptions of life cycles for particular species.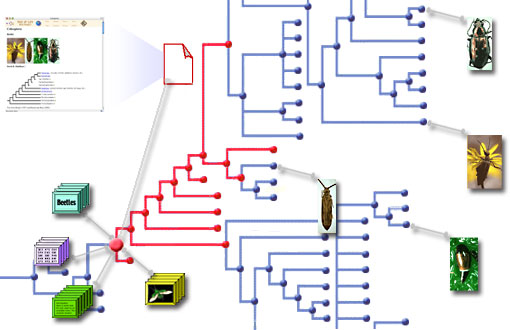 A person visiting the ToL web site will soon have many choices for viewing the data, i.e., visitors will be able to modify default ToL page objects according to their own preferences, including and excluding certain page components and choosing between a number of different display options. More information about this feature is provided on the Customizing Your View of the Tree of Life page.
---
Presenting Information on ToL Pages